When you're faced with the challenge of a small room, be it a living area, dining space or compact open-plan layout, having a freestanding stove may seem like a pipe dream. But with the Beltane Brue collection from Eurostove, you'll get all the benefits of a traditional multifuel stove in a compact design, ideal for modern new-builds as well as cosy cottages and rural retreats.
Beltane Brue Ecodesign
Available as a classic freestanding model, Eurostove's Beltane Brue collection comes in a choice of four designs – the Beltane Brue Ecodesign, Beltane Brue Logstore Ecodesign, Beltane Brue Convector Plus Ecodesign and the Beltane Brue Convector Plus Logstore Ecodesign – with a style to suit every home.
Beltane Brue Convector Plus Ecodesign
Each stove is A+ rated for energy efficiency with a heat output ranging from 3-5kW. Its clean, modern styling features a large viewing window to see the dancing flames within along with a beautiful Anthracite painted finish that complements all interiors. Solid, sturdy and manufactured using only the highest quality materials, this British design comes with easy to use air controls and a durable cast iron grate. Suitable for placement on a 12mm hearth, the Beltane Brue is a perfect choice for smaller spaces.
Beltane Brue Logstore Ecodesign
For those who love the look and earthy aroma of real wood, the logstore base versions of the Beltane Brue stove allow for quick and easy access to dry logs and you can easily store an evening's worth below the stove itself, so no more having to pop out to the wood shed on a cold, wet and windy night.
The two Convector Plus designs come with convection side panels, lowering the distance to combustibles at the sides to 200mm. This is due to the relatively cooler exterior of the convection stove compared to the radiant heat of the non-convector designs, which are more suitable for installation within a chimney breast or fireplace.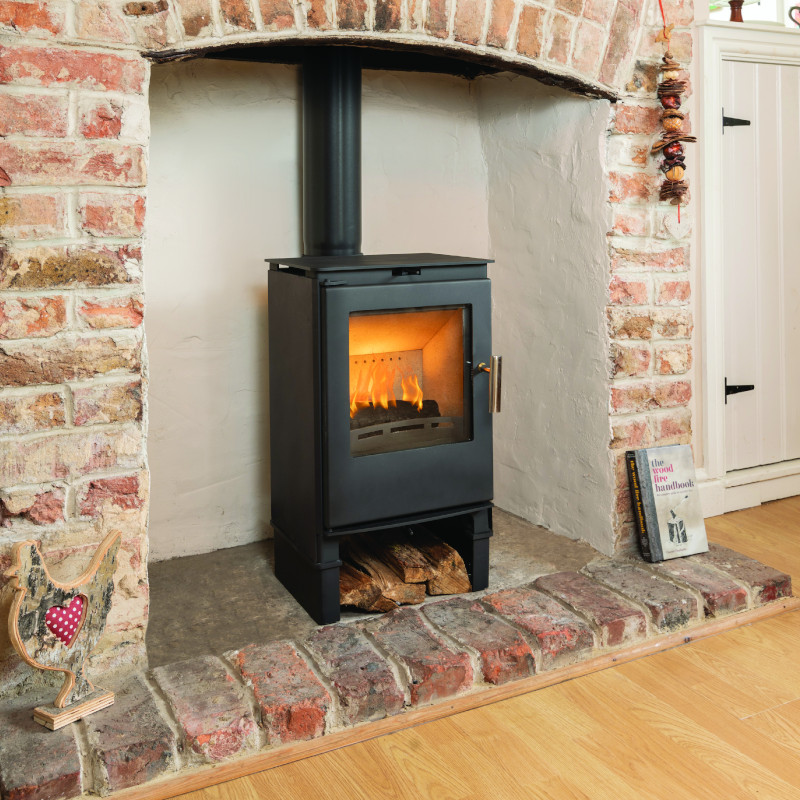 Beltane Brue Convector Plus Logstore Ecodesign

Eurostove's Beltane Brue collection is Defra Approved for use in Smoke Control Areas such as our cities and large towns as well as being EcoDesign Ready, making it a great investment for the future. The European-wide initiative to lower emissions comes into effect for stoves in the UK in 2022. The PM emissions limit for EcoDesign is 55% lower than for Defra exempt stoves and EcoDesign Ready models can reduce particle emissions by 90% compared to an open fire and 80% compared to an old stove. Upgrading your stove to an EcoDesign Ready model now gives peace of mind as well as helping to protect our planet.
"The Beltane Brue collection is a great option for smaller homes or compact rooms," says Chris Baines, managing director of Eurostove. "It may be one of our smaller stoves but it still delivers on heat output and looks stunning with its clean lines and classic styling. Investing in an EcoDesign Ready model now is a wise idea, as it means you are all set when the new rules come into place next year. Here are Eurostove we have been designing and manufacturing EcoDesign Ready stoves for a few years now, helping homeowners get ready for this next stage of sustainable living."