With woodburning stoves never being far from the headlines of the British media, the question is, why should you choose a woodburning stove today and what benefits are there over other traditional alternatives and fuel types.
Woodburning stoves of the 21st Century are markedly different from those available even 10 years ago. Todays stoves not only have the best in combustion technology, Ecodesign certification and smoke exempt optionality, they also come in all shapes and sizes to suit your home.
Are woodburning stoves better than open fires?
The simple answer is yes. Woodburning stoves not only allow for much more heat to be emitted into the room and less lost up the chimney than open fires, they are also substantially better for the environment. Where most Ecodesign stoves have an A or A+ energy rating, open fires are rated G if not lower on the energy rating system.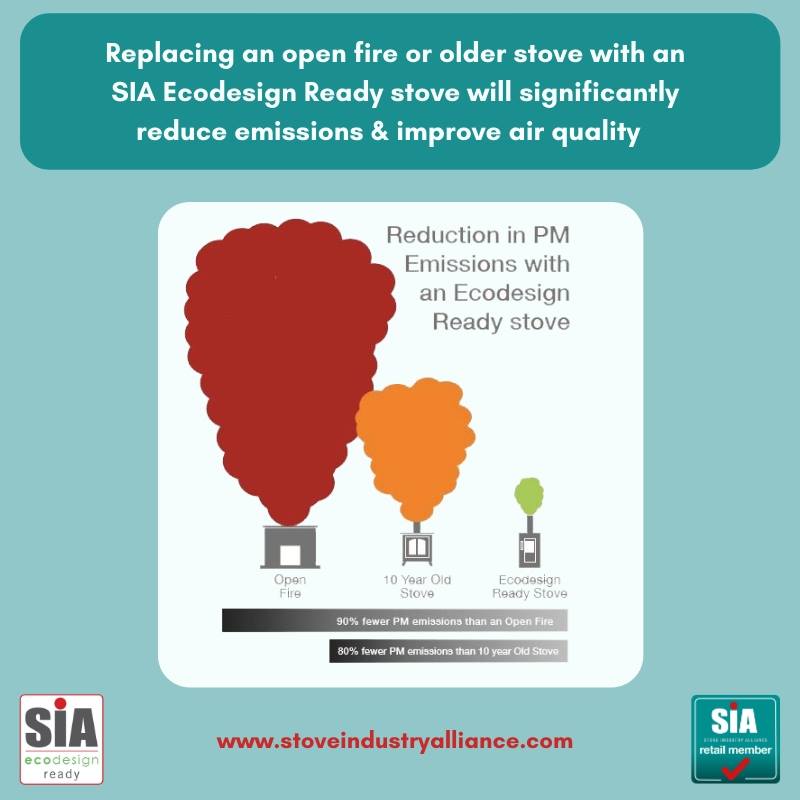 Ecodesign compliant wood stoves must have a minimum efficiency of 75% compared with the current CE requirement of 65%. The difference in efficiency of Ecodesign ready stoves compared with older stoves and open fires can be clearly seen in the efficiency label chart shown below. (Stove Industry Alliance).
Not only are Ecodesign woodburning stoves more efficient in their emissions but also in their load rates. Significantly fewer logs are required in an Ecodesign Stove compared to an older stove or open fire, not only saving you money but also reducing the amount of Carbon released through the burn cycle.
How does woodburning compare to other forms of fuel?
Woodburning stoves are considered as 'carbon neutral' due to the natural cycle of planting and harvesting trees making wood a sustainable fuel. CO2 is taken out of the atmosphere by growing trees at the same time as it is released by the combustion (burning) of the previous harvest. This form of renewable energy makes it much better for the environment than burning oil or gas as no new carbon is being created.
Many people use their woodburning stove alongside traditional central heating systems or to create a statement piece in a room. This can mean having a woodburning stove can save you money on your heating during the early Autumn and Spring months, when the temperature outside starts to drop but not to a point that it justifies using the central heating.
Modern woodburning stoves are designed to burn dry wood, with a moisture content of less than 20%. In fact, the sale of wet wood (with a moisture content of more than 20%) is now due to be phased out in the coming month. Making it easier to purchase the right wood for your woodburning stove.
Woodsure has launched the Ready to Burn logo to give consumers the confidence they need when purchasing firewood that has a moisture level of below 20%. This allows people to easily identify quality, dry wood fuel, which will not only benefit their woodburning stove but also the wider air quality.